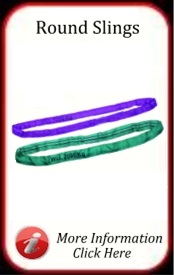 Flat Duplex Webbing Slings



WebSlings

PRICES FROM £4.32 PER SLING

SCROLL DOWN TO BUY ONLINE
Flat Web Lifting Slings
are available with metal end fittings, soft sewn eyes or as endless belt slings. Woven from high tenacity polyester yarn, these slings offer solutions to most lifting problems. Their low weight, flexibility of use and ease of handling can give significant improvements in safety and costs when compared to other forms of lifting equipment.
Features
The colours used are indications of WLL for all Duplex and endless slings.
In addition each sling up to 10t has stripes - each stripe. Indicates 1t of lifting capacity (Duplex and Endless only).
Available with reinforced becketed sewn eye or metal fittings.
All slings have a unique serial number for ease of traceability.
Slings can be 1 layer (Simplex), 2 layer (Duplex), 4 layer (quadplex) or endless or multi width.
Temperature range -40 degrees C to +100 degrees C.
Flat Web Lifting Slings Prices