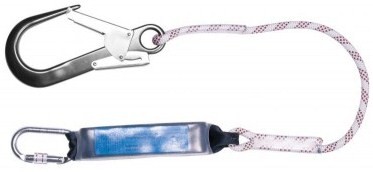 RidgeGear RGL2 Lanyard Connector Options

RidgeGear RGL2 Rope Shock Absorbing Lanyard
The RidgeGear RGL2 rope lanyard is supplied in two lengths: 1.3 M and 1.8 M

The RidgeGear RGL2 rope lanyard is of "traditional" type, using a five tuck spliced rope fitted with thimbles at each end. The lanyard is fitted with a standard shock absorber pack, even though the rope itself has some shock absorbing capacity. The rope used in the manufacture of this lanyard, shows some resistance to alkalis, oils and organic solvents.

The RidgeGear RGL2 rope lanyard should be used when the operative is working from a static position, connected to a fixed anchor point. If movement between anchorages is required, a twin leg lanyard should be used (RGL3 webbing or RGL8 Rope), to provide constant protection.

The RGL2 lanyard is fitted as standard with the RGK12 Delta Link at at the shock absorber end, altough this fitting can be changed upon request.
| | | |
| --- | --- | --- |
| Description | 1.3Mtr Price | 1.8Mtr Price |
| RGL2 with RGK1 Screw Kate | £24.71 each | £25.40 each |
| RGL2 with RGK2 Twist Lock | £27.92 each | £28.61 each |
| RGL2 with RGK5 Large Gate | £37.22 each | £37.91 each |
| RGL2 with RGK11 Snap Hook | £35.97 each | £36.66 each |
| RGL2 with RGK16 Captive Twist Lock | £38.47 each | £39.16 each |