Ultralift Plus Lifting Magnet
Safety Catch - The safety catch locks the handle in the `on` position, providing a robust and positive lock to the lifter mechanism.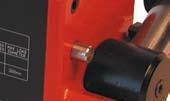 Lifting Eye - Complements the safety catch. Once the lifting eye is in tension with the load, the mechanism locks the handle ensuring the magnet cannot be released by accident.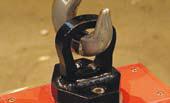 Hand Brake Release - The magnet can be released simply, using one hand.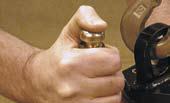 Safety Shim - The Eclipse Magnetics Ultralift Plus is the only permanent magnet lifter to come complete with a `safety shim`international patented. Allows pre-testing of the load to be lifted irrespective of weight, material type, material thickness and surface condition. If the load passes a 3:1 safety factor is guaranteed.