Economy Vertical Plate Clamp
Specially hardened jaws for extra durability.
Lifting under 20% of the rated capacity loading is strictly forbidden, and overloading is not permitted.
The steel plate lifted should be under HRC 37 (HB 345).
The Vertical Plate Clamp is designed to lift one plate at a time.
Economy Vertical Plate Clamp
3000kgs
0-30mm

£149.50 each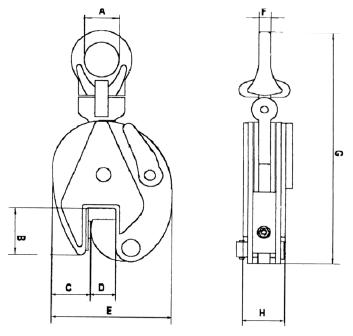 Capacity

Kgs
Jaw (D)
Capacity
mm
A

mm
B

mm
C

mm
E

mm
F

mm
G

mm
H

mm
Weight

Kgs
500
0 - 15
30
43
34.5
103
10
212
36
2.0
1000
0 - 20
48
63
51
138
12
294
50
4.8
2000
0 - 25
68
76
59
164
16
370
52
6.5
3000
0 - 30
74
85
56
193
20
418
78
15